Share:

The AUD/NZD slumped to a low of 1.0774 on Wednesday before recovering back above 1.0800.
Low side rejections are firming up technical support on the intraday charts.
Aussie could be gearing up for another challenge of the Kiwi which has dominated in November.
The AUD/NZD kicked off Wednesday trading dipping into a low of 1.0774 as the Aussie (AUD) pares back Tuesday's gains against the Kiwi (NZD), but the pair staged an intraday recovery to push the AUD/NZD back over the 1.0800 handle.
the pair heads into Thursday's market session trading on the low side of the 200-hour Simple Moving Average (SMA) near 1.0830, and the level for shorts to beat will be the technical support barrier firming up from swing lows into 1.0780.
Daily candlesticks see the AUD/NZD getting strung up on the 200-day SMA just below 1.0820, with the 200- and 50-day SMAs consolidating as near-term momentum evaporates in the Aussie-Kiwi pairing.
The Aussie initially rallied 3% against the Kiwi from October's low bids of 1.0624 into an early November high of 1.0943, but the AUD/NZD pair is now trading back from recent swings into the midrange.
Both the Relative Strength Index (RSI) and the Moving Average Convergence-Divergence (MACD) indicators are waffling into their mid-points as technical momentum devolves into noise in the medium term.
AUD/NZD Hourly Chart
AUD/NZD Daily Chart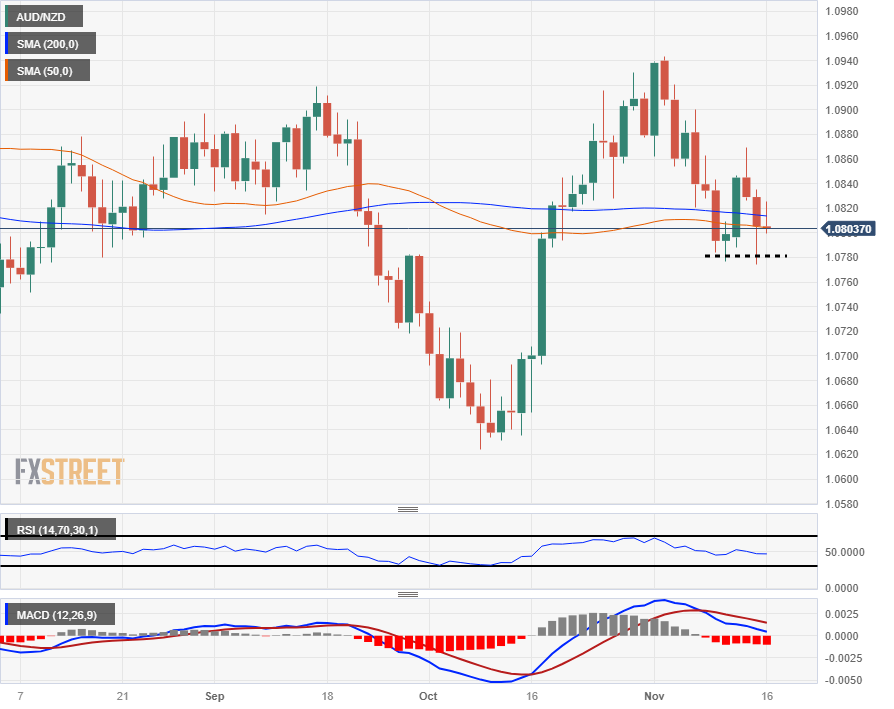 AUD/NZD Technical Levels