Data shows the 7-day average Bitcoin hashrate has now fallen to lows not seen since September, as blizzards temporarily disrupt miners in the US.
Bitcoin Mining Hashrate Has Shown Wild Fluctuations Recently
The last few days have seen extreme cold-weather conditions across the US, causing power and road-related disruptions, as well as claiming the lives of at least 37, as per a report. Even the BTC hashrate has felt an impact from this winter storm. The "mining hashrate" is an indicator that measures the total amount of computing power currently connected to the Bitcoin network.
When the value of this metric goes up, it means miners are bringing more machines online on the blockchain right now. Such a trend shows miners are finding the current network attractive to mine on. On the other hand, decreasing values of the indicator suggest some miners are disconnecting their rigs at the moment, possibly because they have been facing low or no mining profits on the chain.
Now, here is a chart that shows how the 7-day moving average value of the Bitcoin hashrate has changed over the past year:
The 7-day MA value of the metric seems to have sharply dropped off recently | Source: Blockchain.com
As the above graph shows, the 7-day MA Bitcoin mining hashrate has observed a significant decline during the last couple of weeks. This drawdown was initially caused by a 3% increase in the mining difficulty (which caused some miners who were already on the verge of going underwater to ditch the network), but the fall has extended in the last few days due to the storm.
The reason these recent freezing temperatures have had an effect on the hashrate is that BTC mining companies in places like Texas, where the power grid was put under immense pressure, made the decision to switch off their rigs in order to divert energy back into the grid so that the residents could get constant heating in their homes.
"Due to extreme cold weather sweeping across the eastern and southern half of the US, we will be participating in multiple power curtailments to help stabilize the electrical grid. BTC production is expected to decrease during this time," tweeted Core Scientific, one of the biggest mining firms, on Friday.
It seems the disruptions may have now ended as the daily hashrate has spiked back, retreading the plunge. The below chart displays this trend.
Looks like the hashrate is back to its average | Source: Blockchain.com
If mining companies don't face any other outages in the coming days, then the 7-day hashrate should recover back to previous levels.
BTC Price
At the time of writing, Bitcoin's price floats around $16,800, up 1% in the last week.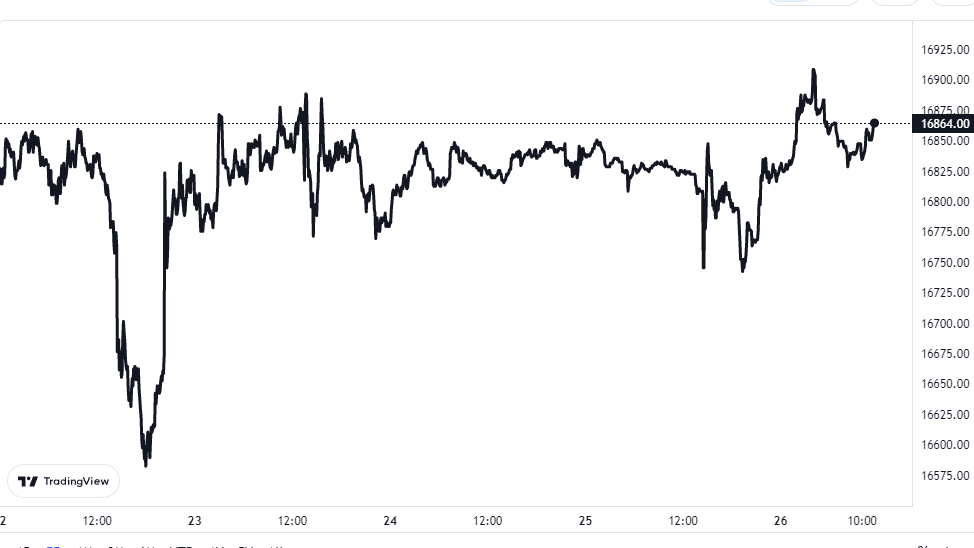 BTC continues to consolidate | Source: BTCUSD on TradingView
Featured image from Brian Wangenheim on Unsplash.com, charts from TradingView.com, Blockchain.com