Share:

Bitcoin price hit $38,000 for the first time since May 2022, amid anticipation for approval of spot BTC ETF. 
US Securities and Exchange Commission extended the deadline for Hashdex and Grayscale's spot Bitcoin ETF application.
BTC yielded 5% gains for holders over the past week, and analysts expect a green light for spot ETFs in January 2024.
Bitcoin price crossed the $38,000 level for the first time in nearly 17 months, on November 15. Bitcoin's ongoing price rally is fueled by market participants' anticipation of a spot BTC ETF approval by US financial regulator, the Securities and Exchange Commission (SEC). The largest crypto asset by market capitalization continued its rally, undeterred by the delay in the approvals of Hashdex's and Grayscale's spot ETF applications. 
Also read: Solana is even faster and more cost-effective than Ether, says ARK Invest CEO
Daily Digest Market Movers: Bitcoin spot ETF applications delayed by US SEC, BTC price rally undeterred
Bitcoin price climbed to $38,016, crossing the $38,000 barrier for the first time in nearly a year and half, in the ongoing price rally. 
Two catalysts, namely, the anticipation of a BTC spot ETF approval by the US SEC and expectation of institutional demand for the asset, spurred gains in the largest cryptocurrency. 
The US SEC pushed the deadline on Hashdex and Grayscale's applications to convert their Bitcoin futures ETF to spot. The deadline on these applications was November 17 and the regulator extended the window, according to recent filings. 
SEC's decision to delay the applications had no significant impact on BTC price; the asset continued its uptrend undeterred.
Another Bitcoin ETF application, by Franklin Templeton, also faces the November 17 deadline.
The rest of the filings face January 2024 deadlines and analysts at Bloomberg expect the regulator to approve spot ETFs in the first week of the coming year. 
Bloomberg Intelligence expects a batch of spot BTC ETFs to be approved in January and notes that it would be easier for both institutional and retail traders to gain exposure to Bitcoin in 2024. 
An interesting metric that supports Bitcoin's fresh gains is the inactive supply of the asset. Based on data from BTCDirect, 69% of BTC supply has not moved in a year. This reduces the volume of BTC in circulation and the selling pressure on the asset, supporting a bullish thesis for Bitcoin. 
Percent supply last active 1 year+
Technical analysis: Bitcoin price eyes $43,000 target
Bitcoin price rallied past the $38,000, a key level for the asset, last seen in May 2022. Interestingly, in 2021,  BTC flipped the $36,127 resistance level into support and pushed higher towards the next resistance at $43,200. With Bitcoin price past $38,000, a successful retest of the psychological barrier is expected, before BTC price eyes the $43,000 target in the coming week.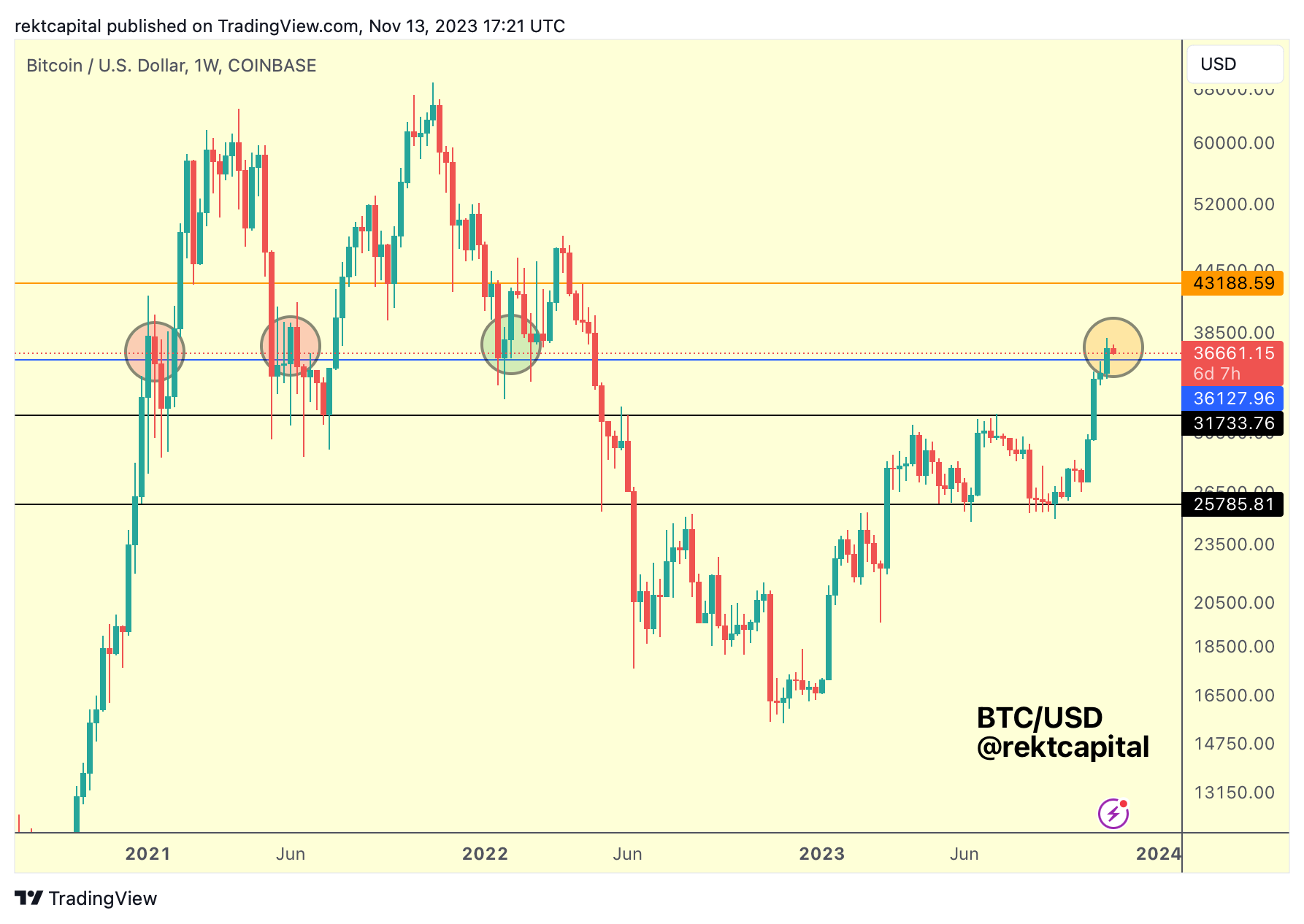 BTC/USD 1-week chart
A failed retest could see Bitcoin price drop to support $32,000 in the next few weeks. At the time of writing, BTC price is $37,407. The asset yielded 5.65% gains on the day.
 
Bitcoin, altcoins, stablecoins FAQs
Bitcoin is the largest cryptocurrency by market capitalization, a virtual currency designed to serve as money. This form of payment cannot be controlled by any one person, group, or entity, which eliminates the need for third-party participation during financial transactions.
Altcoins are any cryptocurrency apart from Bitcoin, but some also regard Ethereum as a non-altcoin because it is from these two cryptocurrencies that forking happens. If this is true, then Litecoin is the first altcoin, forked from the Bitcoin protocol and, therefore, an "improved" version of it.
Stablecoins are cryptocurrencies designed to have a stable price, with their value backed by a reserve of the asset it represents. To achieve this, the value of any one stablecoin is pegged to a commodity or financial instrument, such as the US Dollar (USD), with its supply regulated by an algorithm or demand. The main goal of stablecoins is to provide an on/off-ramp for investors willing to trade and invest in cryptocurrencies. Stablecoins also allow investors to store value since cryptocurrencies, in general, are subject to volatility.
Bitcoin dominance is the ratio of Bitcoin's market capitalization to the total market capitalization of all cryptocurrencies combined. It provides a clear picture of Bitcoin's interest among investors. A high BTC dominance typically happens before and during a bull run, in which investors resort to investing in relatively stable and high market capitalization cryptocurrency like Bitcoin. A drop in BTC dominance usually means that investors are moving their capital and/or profits to altcoins in a quest for higher returns, which usually triggers an explosion of altcoin rallies.
---