Share:

Bitcoin price is at a crossroads and could kickstart another volatile move soon.
The spot ETF approval delay, coupled with a weekly failure swing, could catalyze a drop to $31,000.
On the other hand, a decisive daily candlestick close above $41,333 would alleviate the bearish thesis. 
After the US Securities and Exchange Commission (SEC) announced a delay in their ETF decision, Bitcoin (BTC) price saw a quick uptick, which did not make sense. Currently, BTC is hovering below the $38,000 level, leaving investors guessing its next move. 
Also read: Bitcoin Weekly Forecast: BTC threatens correction to $30,000 amid lack of ETF news
Bitcoin ETF delays, bullish or bearish?
Analysts suggest that a spot ETF approval is highly likely by January 10, 2024. This development, when it does occur, will be an extremely bullish scenario for the entire ecosystem. As a result of this potential development, the capital inflow has been huge, which has caused the market to turn volatile again. 
Investors, however, should be cautious of volatile Bitcoin price swings in either direction, at least until this ETF decision is confirmed and sealed. Within a span of minutes, BTC could break the key support level at $35,000 and retest the $31,000 to $30,000 support range. If such a move were to occur, it would cause mass panic and liquidations worth millions of US Dollars. 
Read more: Bitcoin price aims at $38,000 even as SEC delays Hashdex spot BTC ETF application
Can Bitcoin price slide lower? 
From a historical standpoint, November was the most bullish month for Bitcoin, with an average monthly return of nearly 38%. December, however, comes five places below November with an 11.96% gain in its 14-year history. 
BTC monthly returns
While the net gain at the monthly candlestick close is positive, it does not mean that the Bitcoin price will not go lower and then recover.
Keeping this in mind, let us take a look at the weekly chart of Bitcoin price. 
Read more: Bitcoin ETF approval may not come this week, likely to be postponed till January
Bitcoin weekly chart hints at potential sell signal 
To recall previous publications, Bitcoin price is currently trading inside a weekly bearish breaker, extending from $28,805 to $41,330 and has balanced the weekly FVG, stretching up to $37,386. Hence, the chances of reversal are already high. 
Adding credence to this bearish outlook is the Momentum Reversal Indicator's (MRI) sell signal, as pointed out in the previous article. This technical formation forecasts one-to-four red down candlesticks. If such an outlook were to come true, it would fall in line with the bearish outlook noted above. 
With these two sell signs, if BTC produces a weekly Swing Failure Pattern (SFP), it will likely create a local top. A SFP is formed when the current weekly candlestick sweeps the previous weekly high, but po but fails to produce a close below the previous weekly candlestick. 
In this case, an SFP will form if BTC sweeps the previous weekly high of $37,972 and produces a weekly candlestick close at or below $37,064. This move would be a sell signal that forecasts a potential end of the uptrend or an imminent pullback.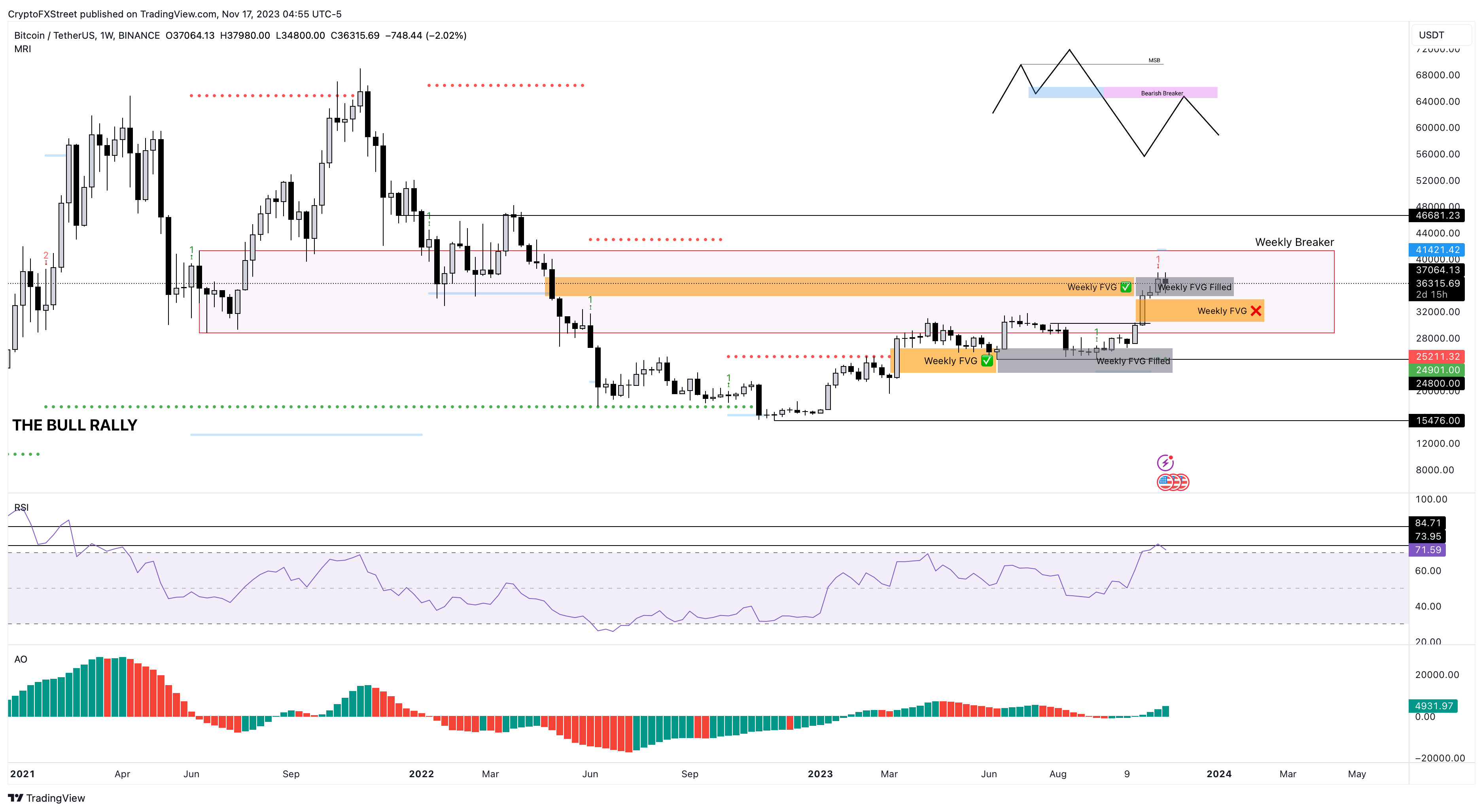 BTC/USDT 1-week chart
On-chain metrics 
Apart from a decline in daily active addresses, metrics like Social Dominance and Volume have also slid lower since October 25. So, the uptick in Bitcoin price from roughly $35,000 to $39,000 has been built while key metrics are declining, suggesting a house of cards, waiting to collapse. 

BTC Active Addresses, Social Dominance and Volume
If this was not enough, there has also been a divergence noted between increasing price and declining MVRV 30-day metric. The 30-day Market Value to Realized Value (MVRV) ratio is a metric used to determine the average profit/loss of investors that purchased BTC in the past month.
The 30-day MVRV for Bitcoin was hovering around 16% on October 24, which indicated that 16% of all investors that purchased BTC were in profit. Interestingly, these unrealized profits declined as more holders booked profits, which should have pushed the pioneer crypto lower, instead, it rallied. This non-conformity is another form of bearish divergence, which hints at an impending sell-off.

BTC 30-day MVRV 
Hence, investors can rely on a potential drop in the second half of November that could drag Bitcoin price down to the $30,000 psychological level. Despite the bearish signal, the long-term bullish outlook of Bitcoin remains unthreatened.
A bounce off the $30,000 support floor could be the higher low that kickstarts a new leg of the 2023 bull rally to the next key hurdle at $46,681. 
Although unlikely, if Bitcoin price produces a weekly candlestick close below $24,800, it would create a lower low and threaten the 2023 bull rally. If BTC fails to setup a higher high after the creation of a lower low, then it could be a telltale sign of a steep correction to the next weekly support level at $15,476. 
---