Share:

S&P 500 had a constructive, corrective move yesterday – sideways one with my 4,507 level ultimately holding. It also enabled advantageous adding to already wildly profitable swing ES longs as per my Advanced Money Management tweak that in short allows for betting reasonably more whenever the conditions are extra good. Intraday clients haven't been left high and dry either as both ES and DAX calls are going their way.
While I warned about oil looking unsettled, the precious metals calls since the bottom are working out great – $2,000 break isn't very far while copper is finding new support at $3.72.
Why such a turn that especially in stocks feels as hardly looking back? Today, I'm releasing a chart with hinted at reasoning that I spelled out plain a while ago when disputing the daily rise in yields.
The dots are then easy to fill…
Upcoming housing data are unlikely to move markets much – a possible slight decline in building permits is to be accompanied by brighter looking actual housing starts, as there is nothing better than retreat in yields for the sector.
Let's move right into the charts – today's full scale article contains 4 of them, featuring S&P 500, credit markets, precious metals and oil.
Credit markets
4.35% is the first purely technical target for the 10y yield – this is probably still the most important chart for stocks or precious metals. Note also how it coincides with the dollar downswing called, and subsequent inability to get above 106. This doesn't boost only profits of multinationals – look also at VWOB for more signs of risk-on turn worldwide – you remember me talking earlier (commodity exporter) Brazil positively.
Gold, Silver and Miners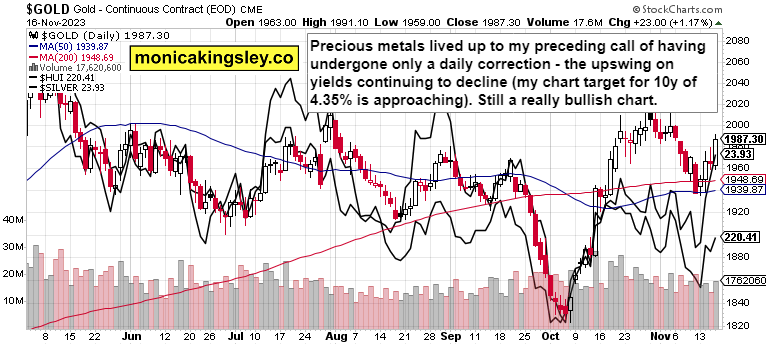 Precious metals recovered sharply from the daily correction, and look primed to consolidate the high ground by modestly grinding up today. It's that miners lost their daily shine Thursday all too willingly, therefore I'm not looking for upside acceleration.