Share:

The GBP/JPY has rebounded back towards 186.50 after sinking post-UK Retail Sales slide.
Investor sentiment is seeing a bounce heading into the Friday close, dragging the GBP back up.
With UK data continuing to miss the mark, downside risks remain for the Pound Sterling.
The GBP/JPY plummeted below 185.50 in Friday trading after UK Retail Sales broadly missed market forecasts, sending the Pound Sterling (GBP) tumbling, but a midday recover in broad-market risk appetite is seeing the Guppy pare back some of the day's losses as safe havens like the Yen (JPY) get pushed back down.
Retail Sales miss the mark, Japan Machinery Orders rebound
UK Retail Sales declined 0.3% month-on-month in October, completely missing the market's forecast 0.3% increase despite a recovery from September's -1.1%, which was also revised lower from -0.9%.
Annualized Retail Sales also worsened, with the year into October printing at -2.7%, significantly worse than the market's expected -1.5% and accelerating a decline from September's figure of -1.0%.
Early Friday also saw Japanese Machinery Orders improve, with the MoM figure for September improving by 1.4%, over the market's expected 0.9% and chewing through the previous month's 0.5% decline.
Japan's Merchandise Trade Balance Total in October also cleared expectations, but still came in sharply down from September's ¥72.1 billion, falling to ¥-662.5 billion instead of the median forecast of ¥-735.7 billion.
GBP/JPY Technical Outlook
Friday's decline sees the GBP/JPY tussling with the 200-hour Simple Moving Average (SMA) for the first time in three weeks as bids collapse back into the midrange, and the near-term expectancy for the pair could be threatening a tilt towards the downside as intraday swing lows steepen.
Daily candlesticks show the GBP/JPY remains firmly entrenched in bullish territory, but pushes towards the high side have been limited as 2023's year-long rally appears to be running out of gas. Congestion around familiar price levels has been increasing and the pair spent most of September and October trapped below the 50-day SMA.
GBP/JPY Hourly Chart
GBP/JPY Daily Chart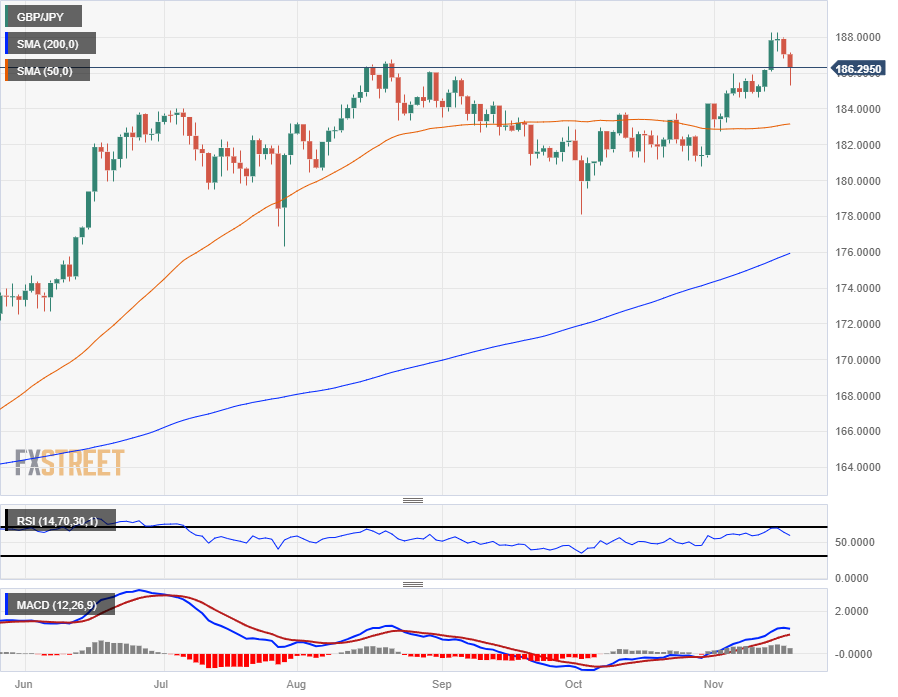 GBP/JPY Technical Levels