Share:

Bitcoin price is expected to fall back owing to the macro conditions and price indicators.
The potential of selling is high ahead of the US Nonfarm Payrolls report and investors' booking profits.
Whale wallets holding $230 million worth of BTC have moved their holding only for the second time in 12 years, suggesting an inclination to sell.
Bitcoin price rally served as a motivation for people to jump in to invest in the cryptocurrency. However, with investors selling for profits, macro conditions opposing optimistic outlooks and the market cooling down, a decline does not seem too far-fetched.
Read more – Bitcoin price threatens drop as sell signals multiply amid lack of ETF news
Daily Digest Market Movers: Whales move Bitcoin after six years
After the recent rally in which Bitcoin price shot up by about 32% to hit an 18-month high of $35,441 yesterday, investors are becoming more inclined to sell for profits finally. Instances of profit booking have already been observed on-chain, with investors selling nearly $408 million worth of BTC in the last 24 hours. This is the third largest spike on the Realized Profit/Loss indicator in the past two weeks.
 Bitcoin realized profits/loss
The bullishness resulting from the rally has also awakened dormant whales that have been sitting on their holding for nearly six years now. Three wallets collectively holding 6,500 BTC worth approximately $230 million moved their assets to a new address in the past 24 hours. The last time they made a transaction was back in November 2017, nearly six years ago.
According to bitinfocharts, the wallets' earliest known transaction dates back to 12 years ago, in July 2011. This suggests that the wallet belonged to a miner from early ages.
Today three Bitcoin whale addresses transferred 6,500 Bitcoins to new addresses, totaling about $230 million. The Bitcoins in these three addresses were all transferred on November 5, 2017, and have been dormant since then. https://t.co/sRJDGQ26Gb

— Wu Blockchain (@WuBlockchain) November 2, 2023
However, beyond optimism, potential bearishness is also a likely factor that will drive down Bitcoin price. As reported by FXStreet, the upcoming Nonfarm Payrolls report could have a negative impact on the cryptocurrency. While the addition of jobs tends to serve as a good thing for the economy, an NFP report surpassing expectations can motivate the Federal Reserve to maintain interest rates higher for longer. Consequently, Bitcoin price could take a hit and potentially scale back down to $30,000.
Technical Analysis: Bitcoin price to see red
Bitcoin price trading at $34,835 is presently inching closer to testing the support level marked at $33,901. The short-term support line is most likely set to be invalidated by looking at the Moving Average Convergence Divergence (MACD). The indicator shows bullishness receding on the histogram, with chances of a bearish crossover increasing.
In the event that the support line is invalidated, Bitcoin would have one chance to bounce off $31,507, but profit booking combined with FUD would result in a further price fall, sending BTC to the $30,000 confluence where the 50-day Exponential Moving Average (EMA) lies.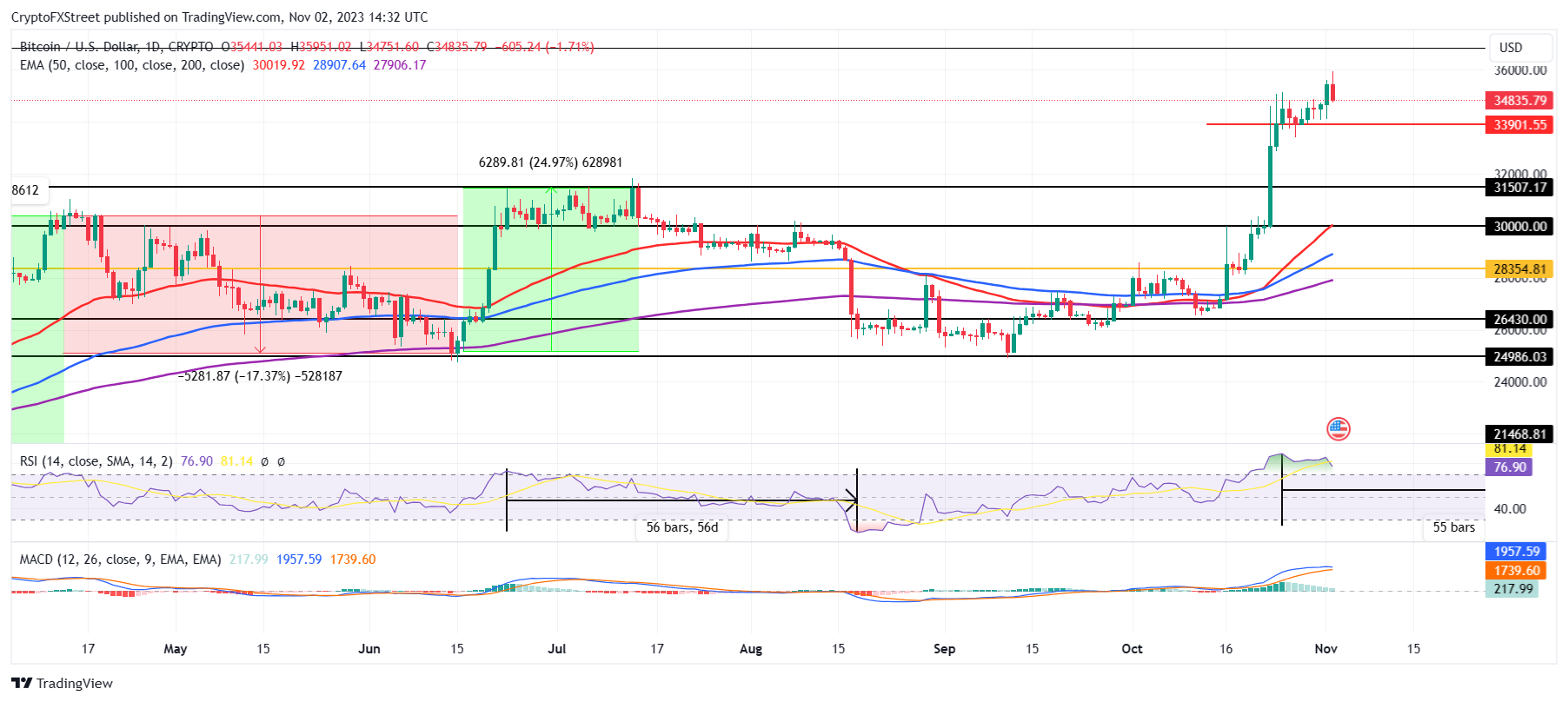 BTC/USD 1-day chart
But if the market surprises and selling does not dominate, Bitcoin price could bounce off $33,901 to rise back toward $35,000. On the daily chart, the next major barrier for BTC is $36,833 and breaching it would invalidate the bearish thesis and support a rise toward $40,000.
Read more – Bitcoin price likely to experience volatility if US NFP report for October exceeds expectations
Crypto ETF FAQs
An Exchange-Traded Fund (ETF) is an investment vehicle or an index that tracks the price of an underlying asset. ETFs can not only track a single asset, but a group of assets and sectors. For example, a Bitcoin ETF tracks Bitcoin's price. ETF is a tool used by investors to gain exposure to a certain asset.
Yes. The first Bitcoin futures ETF in the US was approved by the US Securities & Exchange Commission in October 2021. A total of seven Bitcoin futures ETFs have been approved, with more than 20 still waiting for the regulator's permission. The SEC says that the cryptocurrency industry is new and subject to manipulation, which is why it has been delaying crypto-related futures ETFs for the last few years.
Bitcoin spot ETF has been approved outside the US, but the SEC is yet to approve one in the country. After BlackRock filed for a Bitcoin spot ETF on June 15, the interest surrounding crypto ETFs has been renewed. Grayscale – whose application for a Bitcoin spot ETF was initially rejected by the SEC – got a victory in court, forcing the US regulator to review its proposal again. The SEC's loss in this lawsuit has fueled hopes that a Bitcoin spot ETF might be approved by the end of the year.
---