Share:

Lido wallet addresses with LDO tokens worth $10 million and higher have increased by 65.74% in the past month.
The rising count of whales is accompanied by declining selling pressure on the asset – ideal for LDO price to extend its gains.
LDO price yielded 22% gains for holders over the past week.
Lido DAO's governance token LDO noted accumulation by large wallet investors over the past month. LDO price rallied 51% in 30 days, yielding massive gains to the token's holders. Two bullish catalysts, the declining supply of LDO tokens on exchanges and the rising count of whales, could drive Lido DAO's price even higher.
Also read: Polygon powers Layer 2 network, aims to connect 50 million users to Ethereum
These bullish catalysts support LDO price gains
Based on data from crypto intelligence tracker, the governance token's recent gains are likely here to stay. The supply of LDO on exchanges plummeted from 7% of the token's total supply on October 8 to 5.52% on November 15.
Another on-chain metric that adds credence to the bullish thesis is exchange netflow. There has been a consistent outflow of LDO tokens from exchange platforms, supporting the asset's price gains.
LDO Supply on Exchanges and Exchange Flow Balance
The token's Active Addresses (over 24hrs), Volume and Network Growth imply LDO price gains are sustainable. Alongside LDO price rally, active addresses and volume increased, supporting LDO's gains and signaling a rise in LDO token holders' activity.

Active Addresses 24hr, Volume and price
Network Growth and price
A key metric that measures addresses with large LDO balances is supportive of the bullish thesis. In the past 30 days, LDO addresses with tokens equivalent to $1 million to $10 million and higher, climbed by 19.76% and 65.74% respectively. A rising count of large wallet addresses is typically a bullish sign for an asset.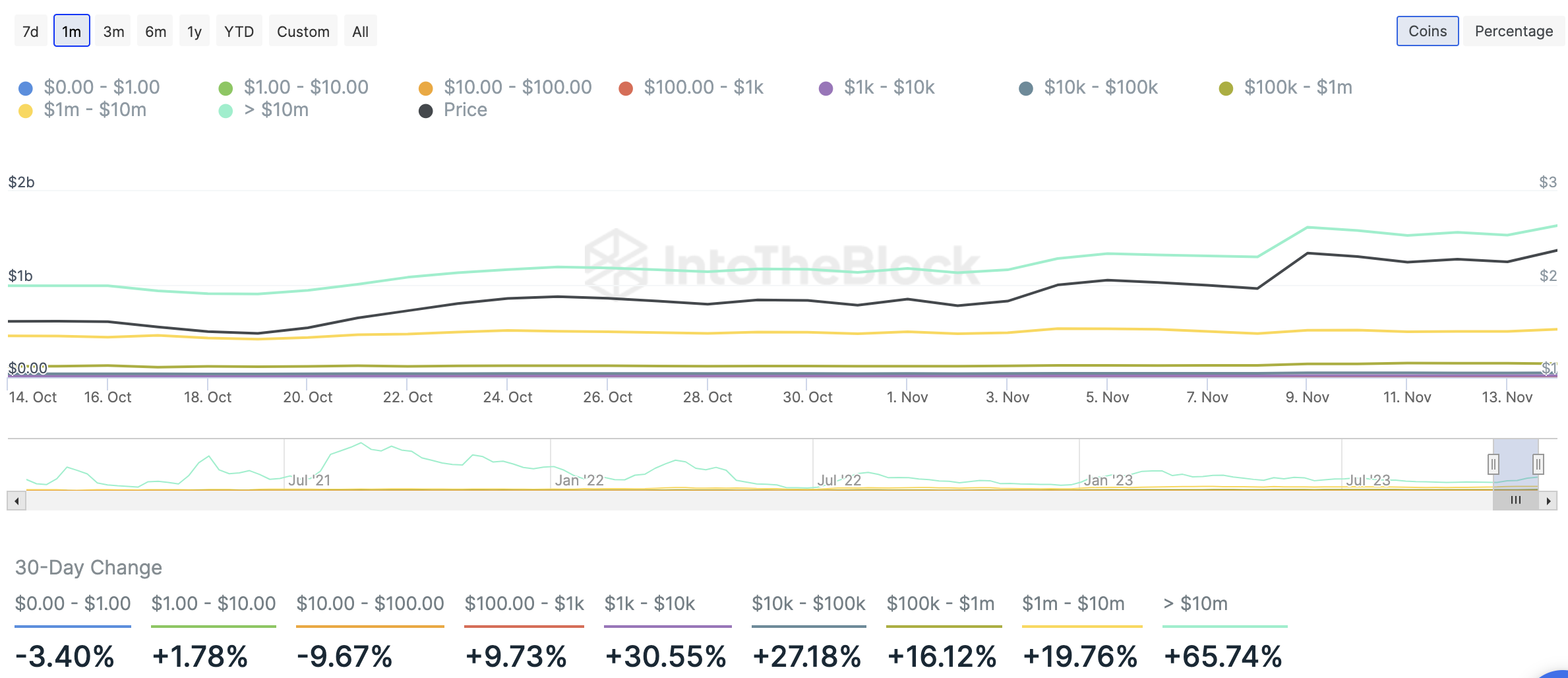 LDO addresses by USD balance and price 
At the time of writing, LDO price is $2.459. Lido DAO's governance token is likely to extend its gains in the short-term, supported by bullish on-chain metrics.
---