Share:

MATIC price has outshined Binance Coin price over the past week, rising by nearly 11% against a decline of 1% of BNB.
Polygon has surpassed Binance in terms of total projects on the network, with most of the growth noted in Infrastructure, NFT and SocialFi projects.
Nevertheless, Binance Smart Chain still trumps Polygon in terms of total value locked on it, holding $5.3 and $1.2 billion, respectively.
MATIC price has gained substantially over the past week, and the altcoin has outperformed some of the bigger cryptocurrencies, including the likes of Bitcoin, Ethereum, and Binance Coin. Additionally, MATIC's parent chain, Polygon, surpassed Binance in terms of the network developer demand as well.
Polygon outshines Binance
Polygon has seen a surge in the total number of projects on the network to the extent that the chain has become the second-largest chain. This feat was achieved by Polygon surpassing Binance Smart Chain, which previously held the rank. 
Although Binance Smart Chain still has the lead in the total number of Decentralized Finance (DeFi) protocols, Polygon has trumped Binance in other categories. These include Infrastructure, NFT and Social & Entertainment projects.
Collectively, Polygon has nearly 1,200 projects on the chain, but the first rank is still out of reach as Ethereum presently has over 2,050 projects on the network. 
Polygon projects
Nevertheless, Binance is still leading the charge when it comes to the total value locked (TVL) on the protocols existing on the network. Binance Smart Chain holds about $5.31 billion on all its protocols, whereas Polygon only has $1.24 billion locked on its DeFi applications.

Polygon DeFi TVL
But when it comes to price performance, MATIC has the upper hand.
MATIC price rally could continue
MATIC price increased by 14.23% over the past week, whereas Binance Coin declined by 1% in the same time period. The Polygon token's rise on the 3-day chart is now being tested as the altcoin nears the $0.884 support line. 
If MATIC manages to bounce off this line, it will cement it as a support floor, likely getting the boost needed to continue its rise towards $1.000 and beyond. The Moving Average Convergence Divergence (MACD) indicator is also suggesting increasing bullishness at the moment as the green bars continue to rise.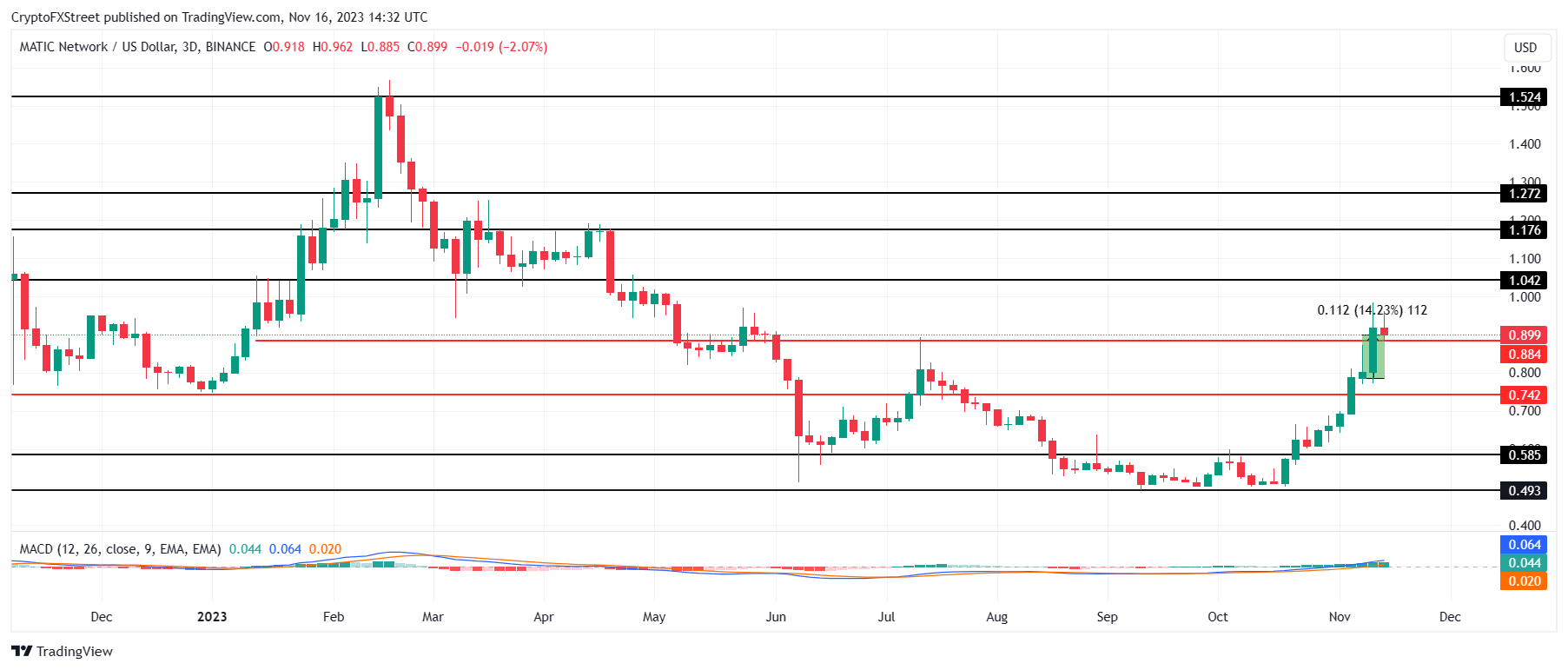 MATIC/USD 1-day chart
However, if the $0.884 support level is lost, MATIC price could note a decline towards $0.800, which would not only invalidate the bullish thesis but also send the altcoin further below to test the support line at $0.742.
---