Share:

S&P 500 offered only a modest opening rebound, and continued one way south though my daily 4,340 "point of control", all the way to the key support of 4,315 – undershooting it, and staging a weak premarket rebound. Sectorally, it was a clear washout taking even XLE down over – 0.5%. HYG with TLT mirrored the poor risk taking sentiment, and today the buyers can stage a moderate dead cat bounce targeting 4,340 to 4,365 area, but probably closer to 4,340 only.
Given the selling pressure seen everywhere apart from oil, I'm not looking for any dramatic stock market reversal this week – as we seem to be headed to the lower 4,2xxs, it's a question of path in price and also time, which isn't on the side of SPY buyers. Meanwhile, the bearish gold, silver and still bullish oil calls are working out for you without delay!
Let's move right into the charts – today's full scale article contains 3 of them.
S&P 500 and Nasdaq outlook
4,340 isn't likely to give way, and actually a break of 4,315, then 4,307, and finally 4,298 are more likely later this week – don't have too high (bearish) expectations for today. Any cyclicals outperformance over tech today, would be insufficent to turn the selling pressure, and would offer a daily stabilization on par with Monday at best.
Gold, Silver and miners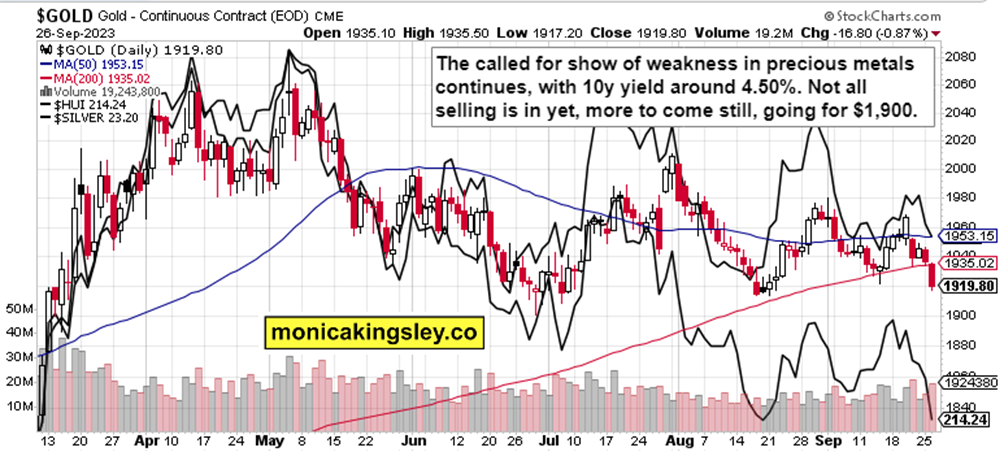 Precious metals still aren't a buy, and there is no change to my bearish sentiment shared every last couple of days. Not until yields top, which we're still far from doing, at least in time (more than a couple of weeks).