Share:

Zoom video beat Wall Street consensus for the first quarter.
Strength was seen in the Enterprise segment, where large customers continued to climb.
The Online segment continues to lose subscribers at a brisk pace.
Bulls need to overcome $74.33 to keep the rally going for Zoom stock.
Zoom Video Communications (ZM) reported fiscal first quarter earnings that beat Wall Street analysts' average by 17%, while revenue came about 3% above the consensus forecast. The pandemic favorite reported decent growth in its Enterprise segment, but the Online segment continued to dwindle.
After advancing 1.5% on Monday evening, Zoom stock is down 0.2% in Tuesday's premarket.
Zoom Video Stock News: Fiscal 2024 guidance moves up slightly
Zoom Video reported $1.16 in adjusted earnings per share for the quarter ending April 30. Revenue of $1.11 billion rose nearly 4% YoY. The adjusted operating margin was 38%, while the GAAP operating margin reached just 1%.
Over the trailing 12 months, Zoom has experienced a 23% rise in customers paying more than $100,000 annually as Zoom said its products continue to endear themself to office workplaces globally. The company added big name customers in the quarter such as Major League Baseball and Virginia Tech.
Source: Zoom FQ1 2024 earnings: Growing Future Earnings Under Contract
Enterprise revenue rose 13% YoY to $632 million, particularly due to the continuing gains seen among large corporations. Zoom currently has 215,900 customers, an increase of 9% YoY. The company's Enterprise segment has a net dollar expansion rate of 112% over the previous 12-month cycle.
The Online segment of the business is still the main problem for Zoom. Online saw revenue slide 8% YoY in the quarter to $473.4 million. Management tried their best to put a good spin on the decline, reporting that monthly average churn had fallen 50 basis points to 3.1% YoY.
"The solid start to the year has enabled us to raise our outlook for fiscal year 2024 while continuing to invest in innovations such as AI to help make interactions more meaningful and communications more effective," said Zoom CEO and founder Eric Yuan.
Eric Yuan and company expect revenue between $4.465 billion and $4.485 billion for the full fiscal year, which is only slightly above prior consensus estimates for $4.46 billion. Management now guides for full-year adjusted and diluted EPS between $4.25 and $4.31 – above the previous consensus of $4.22.
Zoom Video stock forecast
Zoom stock has been in a slight rally in the leadup to earnings. Following earnings the stock has both advanced and sold off afterhours and in the premarket on Tuesday. This gives little idea of its future direction. The Moving Average Convergence Divergence (MACD) indicator is crossed over in a bullish fashion, which is good for longs.
However, ZM stock needs to overcome resistance at $74.33. That was the swing high from early April. If Zoom stock fails to break above that recent high, then shares will quickly sell off back to support at least at the 21-day moving average, which is at $64.36. It could even trend down to the long-term descending trendline near $60. 
Vice versa, if Zoom stock breaks and closes above $74.33, then bulls will take yet another stab at the descending top trendline, which is now near $79.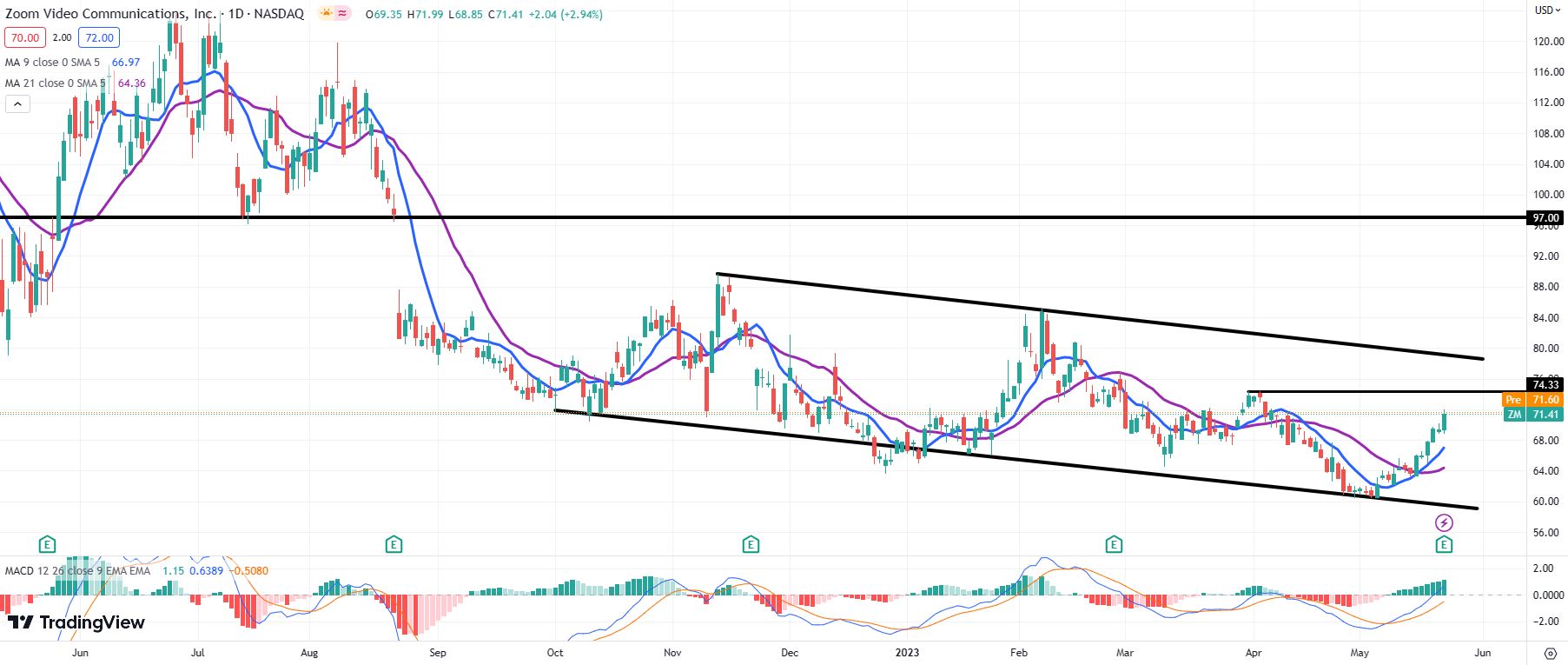 ZM daily chart