America Movil, S.A.B. de C.V. (AMX) provides telecommunication services in Latic America & internationally. The company offers wireless & fixed voice services, including local, domestic & international long-distance services & network interconnection services along with data services. It is based in Mexico, comes under Communication services sector & trades as "AMX" ticket at NYSE.
As showing in previous article, AMX ended wave I as impulse at $22.65 high & proposed ended II correction at $16.13 low on 10/13/2022 low between blue box area. Buyers from the blue box area is already having risk free position. It still needs to break above wave I high to confirm the next leg higher. Short term, it favors correcting lower either in ((2)) or can be double correction in II, if breaks below $16.13 low.
AMX – Elliott Wave latest weekly view
It favored ended ((1)) at $14.77 high on 6/08/2020 & ((2)) at $11.59 low on 9/24/2020. ((2)) was 0.618 Fibonacci retracement of ((1)). While above there, it extended higher third wave extension. It ended ((3)) at $22.60 high on 4/18/2022. While below there, it placed ((4)) at $18.19 low as 0.382 Fibonacci retracement. Finally, it ended ((5)) at $22.65 high on 5/27/2022 as wave I as minor high above ((3)). Below there, it proposed ended II at $16.13 low in blue box area as zigzag.
AMX – Elliott Wave latest daily view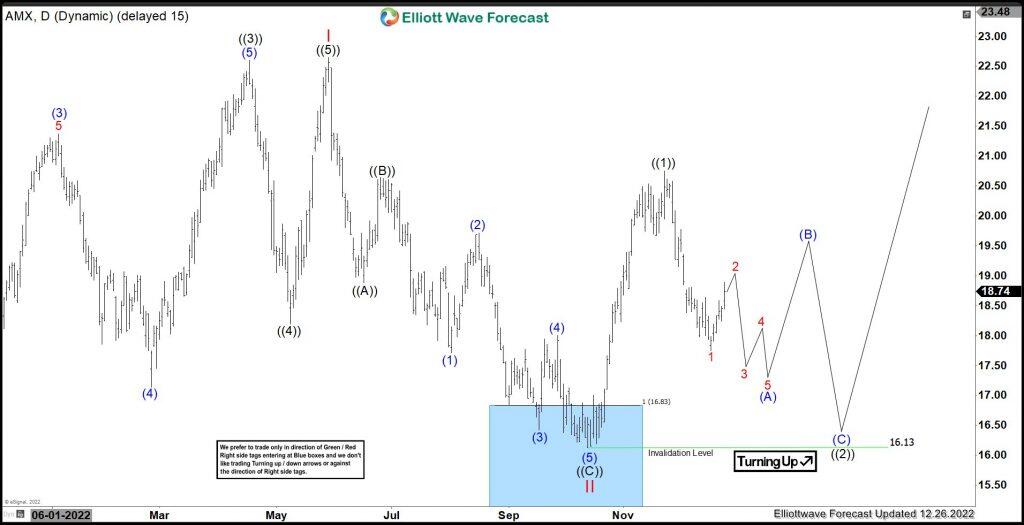 Above II low of $16.13, it placed ((1)) at $20.75 high & favors correcting lower in ((2)). It favored ended 1 of (A) at $17.75 low, while above there it expects bounce in 2 of (A). Later it expects weakness in (A) leg as the part of ((2)). Ideally, ((2)) should hold above $16.13 low to resume higher in ((3)) of III red, which confirms above ((1)) high. Alternatively, if it breaks below $16.13 low, it can do larger double correction in II, which extend further downside between $14.22 – $10.19 area before turning higher.
AMX – Alternate Elliott Wave weekly